Service Attendance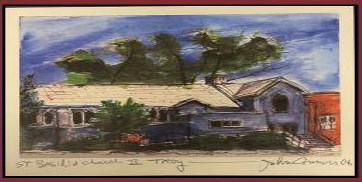 Dear Parishioners of St. Basil,
The beautiful St. Basil Greek Orthodox Church on the riverfront of Troy, NY is our spiritual home. It is a place of prayer, comfort, spiritual healing, and celebration. You may have been brought here on your 40th day, or sometime thereafter at the hand of your YiaYia or Papou, or with your parents or godparents. Regardless of how you arrived, this is the destination for your spiritual journey, and a spiritual home to which we may always return as brothers and sisters in Christ: a family.
The COVID-19 pandemic has brought with it many challenges, including the necessary adjustments to how we worship. For almost two years, we have worn masks, venerated the icons from afar, and socially distanced from each other. Understandably, in the early days of the pandemic, we were compelled to worship from our homes, for our own safety and for the safety of our loved ones. Thankfully, we now have vaccines and effective treatments that have mitigated the once totally unpredictable threat. We also continue to respect the NYS mask mandate when attending church.
As a church community we have yet to fully rebound from this crisis. Attendance on Sundays has been low, and not just for the elderly and vulnerable. We do not wish to pressure anyone who feels at risk to resume in-person worship. However, it is important for our church community and our spiritual well-being to have those who can do so resume worship together so that "the body of Christ is truly realized and we become sacramentally what God intended us to be: united to Him in faith and love, and through Him, to one another. It is in love and faith and worship that we are truly members of the Church (goarch.org).
While COVID is a legitimate concern, we must be cautious not to use it as a crutch to not attend in-person services. "Our Church is so much more than a building. It is where we turn for comfort, support and healing. It is where we make true Christian friends that last a lifetime… Home is safe and familiar. It is where we belong. Our Orthodox Christian Church is our spiritual home. It is a place of prayer, comfort, spiritual healing, and celebration. We are at home in the fragrance of incense, the sound of hymns and prayers, the physical touch of kneeling, bowing and making the sign of the cross, and the taste of Holy Communion and antidoron (the blessed bread)" (goarch.org).
To this end, all of you who are able to do so are encouraged to return to St. Basil Church for Divine Liturgy so that we may worship together as a church family. Our Sunday school program is open, the church is warm and welcoming and, for those who are comfortable, coffee-hour fellowship has resumed.
We miss you and hope to see you soon,
Stephen H. Bobarakis, Jr., Parish Council President
Fr. Emmanuel E. Mantzouris, Presbyter
With the Support of your Parish Council:
Michael Collins, VP
Vicki Dafniotis, Treasurer
Philip Sells, Secretary
Paula L. Cervini, Stewardship
Janet Alber
Paul Semon
Chris Cholakis
Elena Thomas
Maria I. Ginter
Effie Vasilakos
Eric Jasinski
Stephanie Vasilakos
Sophia Mantzouris
Online Chapel
Monday of the Holy Spirit